SUTHERLAND SPRINGS, Texas (AP) – The Latest on the church shooting in Texas (all times local):
6:20 p.m.
Texas law enforcement authorities say the gunman who killed 26 members of a church on Sunday was shot three times, twice by a citizen.
Texas Department of Public Safety Regional Director Freeman Martin says Devin Patrick Kelley was shot in his leg and torso by a citizen who pursued him after hearing gunfire. Martin says the third was, "consistent with being self-inflicted."
Authorities say they've collected hundreds of shell casings and 15 magazines that hold 30 rounds each at the First Baptist Church in Sutherland Springs, where Kelley opened fire Sunday.
The dead ranged from 18 months to 77 years old and included multiple members of some families.
Authorities say 10 victims remain in critical condition and four are in serious condition.
---
10:10 a.m.
Authorities believe the man suspected of killing 26 people and injuring about 20 others at a Texas church shot himself following a car wreck.
Wilson County Sheriff Joe D. Tackitt Jr. tells CBS News that police found Devin Patrick Kelley dead inside his vehicle Sunday shortly after the shootings in Sutherland Springs.
Tackitt says Kelley was being pursued by two community members and investigators believe gunfire was exchanged before Kelley's vehicle crashed.
The sheriff says investigators believe Kelley shot himself after the wreck.
SUTHERLAND SPRINGS, Texas (AP) — A man dressed in black tactical-style gear and armed with an assault rifle opened fire inside a church in a small South Texas community on Sunday, killing 26 people and wounding about 20 others in what the governor called the deadliest mass shooting in the state's history.
Officials didn't identify the attacker during a news conference Sunday night, but two other officials — one a U.S. official and one in law enforcement — who were briefed on the investigation identified him as Devin Kelley. They spoke to The Associated Press on the condition of anonymity because they weren't authorized to discuss the investigation.
The U.S. official said Kelley lived in a San Antonio suburb and doesn't appear to be linked to organized terrorist groups. The official said investigators are looking at social media posts Kelley may have made in the days before Sunday's attack, including one that appeared to show an AR-15 semiautomatic weapon.
At the news conference, Freeman Martin, the regional director of the Texas Department of Public Safety, said the attacker was dressed all in black, wearing tactical gear and a ballistic vest, when he arrived at a gas station across from the First Baptist Church at around 11:20 a.m.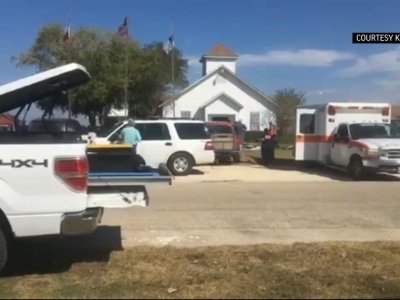 He crossed the street and started firing a Ruger AR rifle at the church, and continued after entering the building. As he left, he was confronted by an armed resident who chased him. A short time later, the suspect was found dead in his vehicle at the county line, Martin said. There were several weapons inside.
Martin said it's unclear if the attacker died of a self-inflected wound or if he was shot by the resident who confronted him. He said investigators weren't ready to discuss a possible motive for the attack. He said the dead ranged in age from 5 to 72 years old. Twenty-three were found dead in the church, two were found outside and one died after being taken to a hospital.
Federal law enforcement swarmed the small community 30 miles southeast of San Antonio after the attack to offer assistance, including ATF investigators and members of the FBI's evidence collection team.
Among those killed was the 14-year-old daughter of the church's pastor, Frank Pomeroy, and his wife, Sherri. Sherri Pomeroy wrote in a text message to the AP that she and her husband were out of town in two different states when the attack occurred.
"We lost our 14 year old daughter today and many friends," she wrote. "Neither of us have made it back into town yet to personally see the devastation. I am at the charlotte airport trying to get home as soon as i can."
The wounded were taken to hospitals. Video on KSAT television showed first responders taking a stretcher from the church to a waiting AirLife helicopter. Eight victims were taken by medical helicopter to the Brooke Army Medical Center, the military hospital said.
Megan Posey, a spokeswoman for Connally Memorial Medical Center, which is in Floresville and about 10 miles from the church, said "multiple" victims were being treated for gunshot wounds. She declined to give a specific number but said it was less than a dozen.
Alena Berlanga, a Floresville resident who was monitoring the chaos on a police scanner and in Facebook community groups, said everyone knows everyone else in the sparsely populated county. Sutherland Springs has only a few hundred residents.
"This is horrific for our tiny little tight-knit town," said Alena Berlanga. "Everybody's going to be affected and everybody knows someone who's affected," she said.
Regina Rodriguez arrived at the church a couple of hours after the shooting and walked up to the police barricade. She hugged a person she was with. She had been at an amusement park with her children when she heard of the shooting.
She said her father, 51-year-old Richard Rodriguez, attends the church every Sunday, and she hadn't been able to reach him. She said she feared the worst.
Nick Uhlig, 34, is a church member who didn't go Sunday morning because he was out late Saturday night. He said his cousins were at the church and that his family was told at least one of them, a woman with three children and pregnant with another, is among the dead. He said he hadn't heard specific news about the other.
"We just gathered to bury their grandfather on Thursday," he said. "This is the only church here. We have Bible study, men's Bible study, vacation Bible school."
"Somebody went in and started shooting," he said, shaking his head and taking a long drag of his cigarette.
President Donald Trump tweeted from Japan, where is his on an Asian trip, that he was monitoring the situation. Texas Gov. Greg Abbott called the shooting an "evil act."
Sutherland Springs is in a rural area where communities are small and tight-knit. The area is known for its annual peanut festival in Floresville, which was most recently held last month.
"We're shocked. Shocked and dismayed," said state Sen. Judith Zaffirini, a Laredo Democrat whose district includes Sutherland Springs. "It's especially shocking when it's such a small, serene area. These rural areas, they are so beautiful and so loving."
Zaffirini said she had called several county and local officials but not been able to get through and didn't have any firm details.
The church is a white, wood-framed building with a double-door at the entrance and a Texas flag on a pole at the front area. A morning worship service was scheduled for 11 a.m. The first news reports of the shooting were between noon and 12:30 p.m.
The church has posted videos of its Sunday services on a YouTube channel, raising the possibility that the shooting was captured on video.
In the most recent service, posted Oct. 29, Frank Pomeroy parked a motorcycle in front of his lectern and used it as a metaphor in his sermon for having faith in forces that can't be seen, whether it be gravity or God.
"I don't look at the moment, I look at where I'm going and look at what's out there ahead of me," Pomeroy said. "I'm choosing to trust in the centripetal forces and the things of God he's put around me."
___
Associated Press writers Sadie Gurman and Eric Tucker in Washington, Nomaan Merchant in Houston, Diana Heidgerd in Dallas and Michael Balsamo in Los Angeles contributed to this report.